"...not looking to your own interests but each of you to the interests of the others.
During this economically challenging time, we know access to our Food Pantry is important now more than ever. Access to our Food Pantry is available on Monday - Friday from 10 a.m. - 2  p.m.  It is currently closed on the weekends. It will also be closed on Christmas Day and New Year's Day.   For additional information, please contact Susan Bello at stlukeschurchpa@verizon.net or call  (215) 968-2781.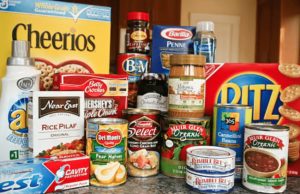 St. Luke's strives to provide the community with a consistent and dependable source of food through the ministry of our food pantry. Located on the ground floor of St. Luke's Parish Hall—the brick building to the right of the church—the pantry is open and accessible to all whenever the church is open. The pantry is stocked through regular donations from our parishioners, cash donations from fundraisers, and contributions from local churches, synagogues and community organizations. Because of this private funding, St. Luke's is not required to keep track of who uses the pantry and when. Clients can remain anonymous, if so desired.
The following items are currently in high demand:
Peanut butter and jelly

Canned tuna or chicken
Canned fruit
Canned veggies, beans
Cereals, oatmeal, granola bars, apple sauce
Shelf stable milk like Parmalat
Shelf stable nut milk like Almond Breeze


The following items are usually in stock:
Peanut Butter
Jelly/Jam
Canned Tuna Fish
Canned Chicken breast
Dry Milk
Cereals
Toiletries (Tooth brushes, tooth paste, deodorant, shampoos)
Soups
Beans
Rice
Spaghetti Sauce
Canned Vegetables
Canned Fruit or Fruit Cups
Please refrain from using glass jars.
For more information on how to access the food pantry or how to donate, please contact the Church Office at (215) 968-2781. Contributions are always welcome. 
The Food Pantry is managed by Susan Minno. For more information on large donations or partnerships in giving, please email Susan at sjm367@comcast.net
Saturdays | 10 a.m. | Parish Hall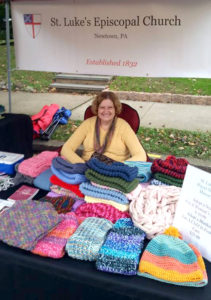 PLEASE NOTE: Due to the Covid-19 pandemic, the Prayer Shawl Ministry are meeting online via Zoom. To receive the Zoom meeting information, please email Jennifer Loessy at jennloessy@yahoo.com. 
Open to all faiths and skill levels, the prayer shawl ministry at St. Luke's knits/crochets a variety of handmade goods to provide warmth and comfort to those in need. Items produced include prayer shawls, lap blankets, baby blankets, hats, scarves, and other items. The ministry also raises funds and donates knitted items to A Woman's Place in Doylestown, each year through their participation in Newtown's Market Day and St. Luke's annual charity Christmas Bazaar. Donations of yarn or gift cards to local craft stores (Joanne's, ACMoore, and Michael's) are always welcome.
Working with Aiding Our Neighbors ministry, St. Luke's works to meet the needs of community members seeking assistance with annual activities such as holiday food baskets and children's Easter Baskets.
Carol Saunders of Aiding our Neighbors has been busy moving families into permanent housing over the last few months. She urgently needs cleaning supplies for these families. If
you are able to make a donation, below are the items needed. You may leave them in the Narthex in Church or drop them off at the Church Office.
Mops & buckets
Brooms
Cleaning solutions to mop floor
Windex or Glass Cleaner
Toilet brushes and cleaners
Ajax or Comet
Sponges
Drinking glasses and mugs
St. Luke's also collects, on a case by case basis, for individual needs of local families or individuals. Past items have included: clothing, furniture, small appliances, diapers, toys, etc. For more information on Aiding Our Neighbors, please contact them directly by phone at (215) 968-6208.
Alcoholics Anonymous Meetings
Mondays | 7 p.m. | Parish Hall
St. Luke's is the host location for weekly meetings of a local Alcoholics Anonymous support group. The weekly support meetings are organized and directed by Jerry K. For more information on the meetings, call Jerry at (215) 968-6302.